ClinicalKey Student is an interactive education platform that supports students and faculty by enhancing the learning experience with tools tailored to develop and assess the medical knowledge of aspiring professionals.
ClinicalKey Student is a multi-purpose medical learning environment, that enables students to Assess, Review and Study to build knowledge, confidence and skills, in a single experience. Part of the ClinicalKey family, which enables seamless access from day 1 at medical school, through residency and into clinical practice.
ClinicalKey Student at a glance:
Acclaimed textbooks covering medical specialties, including Gray's Anatomy for Students and Medical Physiology
Quick access summaries of common diseases
Access to high-resolution images, unlocked and discoverable for visual learning​
Save Faculty and student time: Presentation maker tool​
Enhance lectures using copyright cleared images
Access to videos ranging from practical demonstrations of anatomical dissections to instructional clinical examination examples​
A free mobile app is available through iOS and Android app stores, search "ClinicalKey Student Bookshelf".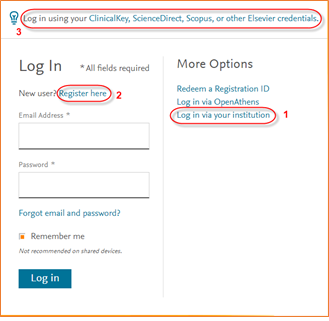 Accessing ClinicalKey Student
Your access method: Access has been set up via existing access method. Please continue using the existing IP range (or) user names and passwords or via Shibboleth Authentication (1).
Using ClinicalKey Student
A personal profile also enables users to use Bookshelf (with highlighting, note-making, and bookmarking functionality), share notes/highlighting, and export notes to OneNote.
For those who already have an Elsevier profile registered on other platforms such as ScienceDirect, Scopus, Mendeley, Editorial Manager etc, the same credentials can also be used for access to ClinicalKey Student (3).